Meet and Greet Gatwick North Terminal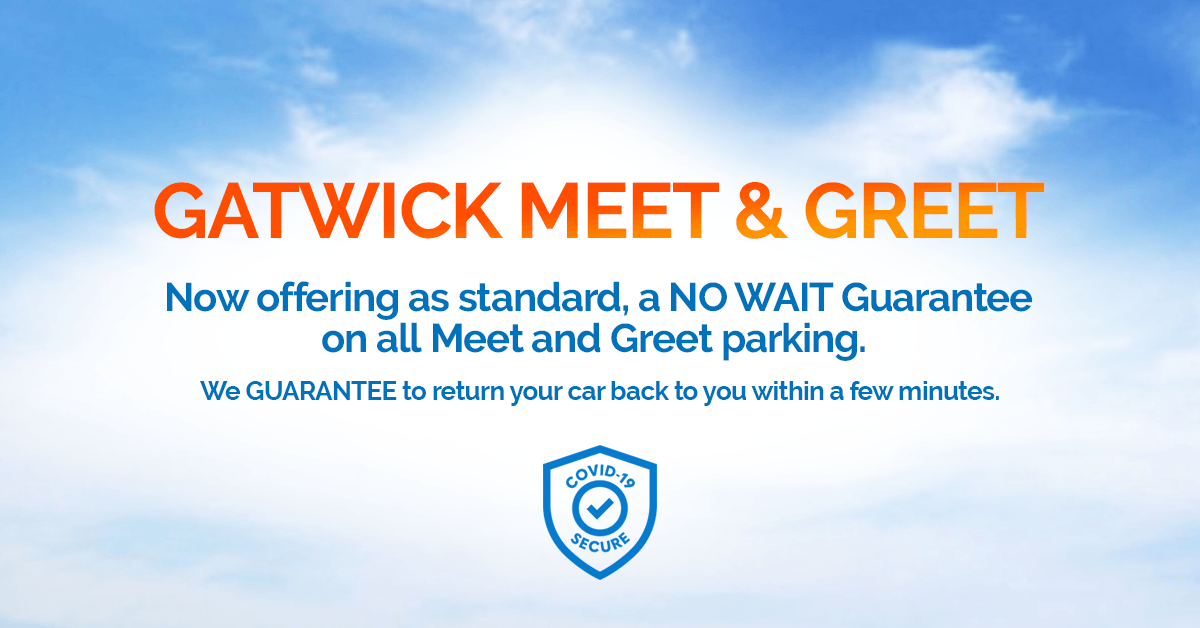 We are proud to be the unrivalled choice for meet and greet parking at Gatwick's North Terminal. Whether you need to park at Gatwick North as a business traveller, a disabled traveller, as part of a family or team, our valet / meet and greet Gatwick parking service is the easiest, fastest and most convenient way to park at Gatwick.
Simply meet our uniformed driver at Gatwick North terminal where they will conduct a quick check of your car and return flight details, leaving you free to head straight to check-in. Our drivers will park your car safely in one of our Park Mark approved car parks for the duration of your trip away.
On return to Gatwick Airport, we will send your car back to the terminal, so you can head straight home or back to the office.
**NEW** Meet and Greet at Gatwick with No Wait Guarantee*
Our new and improved flight tracking system monitors your return flight, which ensures your car is dispatched once your flight lands.
✔️No waiting around to collect your car – we GUARANTEE that on return, your car will either be waiting for you, or will arrive at the meeting area within a few minutes for you to drive home.
Following a huge upgrade to our systems, we now offer as standard, a NO WAIT Guarantee on all Meet and Greet parking at Gatwick Airport, making it even more convenient to park your car with Maple Parking.*
If you wait longer than 10 minutes for your car to be returned, you will be refunded 25%. Any longer than 20 minutes you will be refunded 50% and if you are waiting longer than 40 minutes, you will get all your money back.
Meet & Greet parking at Gatwick North Terminal

You can rest easy while you are away, in the knowledge that your car is in safe hands.
Meet & Greet at Gatwick North 24 hours a day, 7 days a week, 365 days a year
24/7 Security at all car parks
Disabled Facilities
All Maple Parking Staff are uniformed, fully insured and DBS checked
Park Mark award winners
All our car parks have been inspected by a specially trained Police Officer
Meeting Point
Our meeting area at Gatwick North is within a dedicated area within the Sofitel Hotel Car Park. This area is easy to find and is situated at the North Terminal. It is equally as close as the previous Short Stay alternative and is preferred by all of our customers.
Car Clean Options
Meet and Greet options for Gatwick North terminal can be inclusive of a car clean, either booked as an add-on which you book your parking, or can be booked with you check-in with our team on the day. This service is subject to availability.
Toilets
Public toilets can be found on every floor of the North terminal at Gatwick, including baby change facilities and showers. The nearest toilet is in the hotel lobby and is zero deviation from the short walk through to check in.
Internet access
You will find internet access and hotspots in most of the terminal building.
Information desk
If you need any assistance, you will find an information desk in the terminal's main Arrivals and Departures areas with multi-lingual staff on hand to help.
The same service is also available at Gatwick South Terminal. The meeting point is located in the Short Stay car park at the front of the terminal. click here for a parking quote.
*No Wait Guarantee Terms/Conditions Apply
An accurate return flight number and landing date and time is given
Your flight does not land more than 15 minutes early unannounced
The terminal is open and flights are operating from that terminal
There are no road closures or road accidents preventing us from getting to and from the airport easily.
Heightened security at the airport does not slow down entry into the airport
Any vehicle issues preventing or delaying the return of the vehicle – including mechanical, electrical, fuel etc.
Circumstances beyond our control. Including (but not limited to) adverse weather, severe traffic delays, flight cancellations, airport operational issues.