Park Mark & What Does It Mean?
Make sure your car is parked safely.
The Park Mark Safer Parking Scheme is the National Standard for UK car parks created to prevent crime and to ensure the safety and security of the environment of a parked vehicle.
In order to receive this recognition, each facility is required to meet a challenging set of security standards, constantly assessed by specially trained police.
We know you have a choice when parking your car, and so we want to ensure you and your car are safe and secure, and with awarded, Park Mark facilities,
we hope this gives you extra peace of mind.
Park Mark® Safer Parking Award
Maple Parking consider car safety and security of our car parks to be high priority, crucial for our drivers and very important to our customers. That is why we hold the Park Mark® Safer Parking award – a national police-backed initiative – awarded to parking facilities that are properly managed and maintained and provide a safe environment for both vehicles and customers.
Maple Parking are proud to be fully accredited by the authorities, as follows:
Gatwick Airport Approved Operators Scheme
West Sussex Trading Standards Buy With Confidence Scheme
Park Mark awarded parking facilities
British Parking Association

You can trust that your car is stored in a Park Mark facility which has CCTV, flood lights and security fences.
Furthermore, all our drivers are fully insured to drive your car between the airport and the car park.
Most car parks are safe places, most of the time. But not all! Park Mark helps you tell the difference.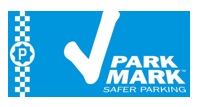 Look out for their distinctive sign, and always park in an accredited car park.