Feefo Rated Excellent in 2019 Service Awards.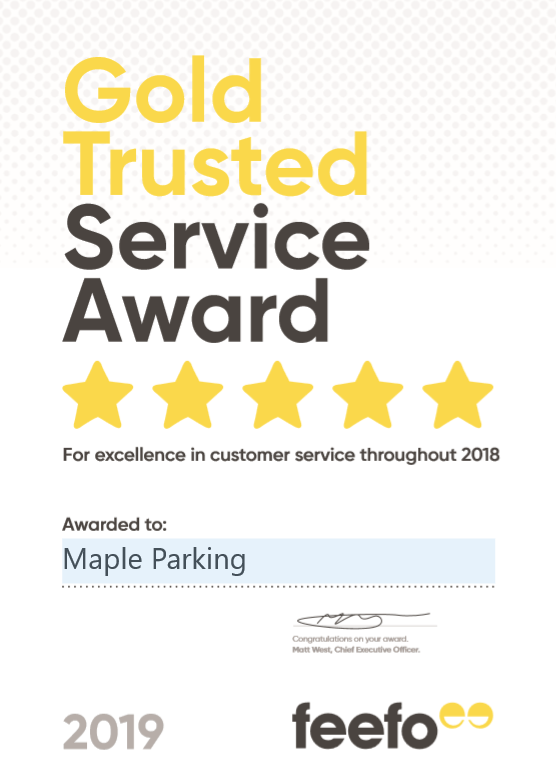 Feefo have announced their annual Trusted Service Awards for 2019 which recognises businesses like ours for delivering exceptional experiences, as rated by our real customers. Using this genuine review system has helped so much that Feefo themselves have recognised Maple Parking, and they have granted us their
Gold Trusted Service Award, rating us EXCELLENT for the second year running!
This award is given only to those businesses that use Feefo to collect genuine ratings and reviews, and meet the standard relating to the amount of reviews, and the review scores.

Real Travellers. Real Reviews. Real Insight.
Feedback is a huge part of our business and this badge of honour and accreditation from Feefo makes it all the more special. We proudly wear the accreditation badge on our website, and we thank every one of our customers who has taken the time to leave us feedback.
We urge you to look through our feedback reviews on our website in the hope this will give you a clear view of the business, the service we offer and the way in which we treat our customers.
We continue to ask each traveller for feedback on their return journey and during the two years we have used Feefo, we have gained an invaluable insight into what our consumers really think, and we use these reviews to improve and grow as a company. Furthermore, we know that every bit of feedback that is left for us, is real, genuine, and written by the customer themselves.
If you have taken the time to leave feedback, we will always try to respond personally, and we couldn't do it without you. It has also been a great tool for our care team, who can, more importantly, tackle any concerns that have arisen for customers past or present.
Feefo describe these awards as a recognised symbol of trust – helping customers click with confidence.
We only collect ratings and reviews from verified customers – that means they are always genuine.
There's good service. Then there's Trusted Service.