More than just Parking.
Here at Maple Parking, we specialise in meet and greet parking and now operate from numerous airports across the UK. We started this service over 25 years ago at Gatwick Airport and over the years have expanded, making us the largest independent meet and greet provider in the UK. We also offer car cleaning / valeting services at selected airports and have our own small boutique hotel at Gatwick Airport. More information about both of these can be found below. Our aim is to make parking at the airport as stress-free and simple as possible by offering something to suit everyone.
MEET AND GREET PARKING
Our Meet & Greet Parking service is what our business is focused around and is our most popular service at the 6 airports that we operate from. We have spent over 26 years honing this service to make it the most convenient way to park at any airport. Our focus is not only on convenience for you, but security of your vehicle and your peace of mind so that you can relax and enjoy your trip – safe in the knowledge that your car is secure and being looked after at all times whilst you are away.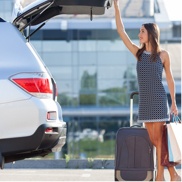 Meet & Greet Parking
Park Mark awarded Car Parks
Fully insured & CRB checked drivers
Meet outside the airport terminal
Car Parks manned or patrolled 24/7
How meet and greet parking works:
On arrival
Simply drive to the terminal in your own car
Meet with our professional, insured and CRB checked staff
We'll conduct a quick check over your car and take pictures
You can then walk into your terminal to catch your flight
Our drivers will drive and park your car for you, in our highly secure car parks within the vicinity of the airport
On your return
Our driver will meet you outside of the terminal with your car
Then simply drive home, or onto your next destination
Why meet and greet?
Meet and greet parking is the easiest way to park at an airport
It's the quickest way to park as there are no airport transfers
No long walks in the dark / rain from Airport long stay car parks
Great for business people, the elderly, families and disabled customers – in fact everyone
Safe off site parking that's monitored and patrolled 24/7
Much cheaper than you think
You can easily book your meet and greet airport parking on our website, but if you have any questions at all, please feel free to give us a call on 03 333 222 333
THE MAPLE MANOR HOTEL (GATWICK)
If you are ready to take a break from the large corporate hotels then book a stay in The Maple Manor Hotel and enjoy a wonderful night's sleep in a small hotel with a big heart. Only 5 minutes from Gatwick Airport and boasting 12 luxuriously appointed rooms, restaurant and licensed bar, this hotel makes a perfect start or end to your holiday and makes a great addition to our Meet & Greet Airport Parking at Gatwick.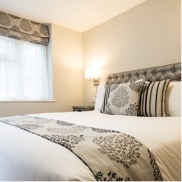 Room Bookings
Luxuriously Appointed Boutique Hotel
Ideal for an early flight departure or a late return
5 minutes away from Gatwick Airport
Secure Overnight Parking included in room rate
Breakfast included in room rate
The Maple Manor Hotel Gatwick is a new boutique Airport Hotel with 12 beautifully renovated en-suite bedrooms, a restaurant and a lounge for you to relax in.
Located just 5 minutes away from Gatwick, you can even catch great views of the planes taking off and landing
Rooms are all luxuriously appointed providing everything you would need for an overnight stay from bathrobes and White Company Toiletry sets to tea and coffee making facilities, home-baked biscuits and flat screen TVs.
The friendly staff are on-hand 24/7 to ensure your stay is relaxed and enjoyable, making the perfect beginning or end to any trip.
Rooms available to suit all types of travellers from family suites to single rooms for individuals, to accessible rooms and king suites.
If you're ready to take a break from the large corporate hotels, book a stay with Maple Parking and enjoy a wonderful night's sleep in a small hotel with a big heart.
VALETING
Why not add one of our valeting products to your booking and drive away in a clean, freshly valeted car at a great price.
Leave your car in our capable hands and not only will we keep it safe and secure, but we can also make sure it is clean and fresh for your return. This service is extremely popular and with Valets starting from only £14.99 – offer extremely good value. Your vehicle will be valeted by our experienced team usually within 24 hours of your pre-arranged return. Available at selected airports.
All vehicles are hand washed and hand dried using professional quality materials. Our valeting service will be offered as an optional extra when you book your parking at selected airports.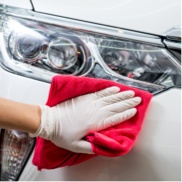 Valeting Products
Professional Cleaning Service
Freshly Valeted within 24hrs of your return
For the last 9 years our valeting service has continued to grow in popularity.
We offer a wide range of valeting products from just £14.99
Your vehicle will be in the safe hands of highly experienced valeters.
Vehicles are valeted 4-24 hrs. prior to your return to the Airport.
All vehicles are hand washed and hand dried using professional quality materials.
Our valeting packages will appear as an option to add to your airport parking when you book through us (if it's available at your airport). If you have any enquiries about our airport valeting, please do give us a call on 03 333 222 333