**NEW** Safety Measures in Place.
Providing safe parking with NO CONTACT.
We have new guidelines in place for maintaining social distancing and no contact for all drivers and passengers, to limit the spread of the Covid-19 virus.  It is our aim to ensure all passengers experience the same high level service whilst in our care and both passenger and driver are kept safe.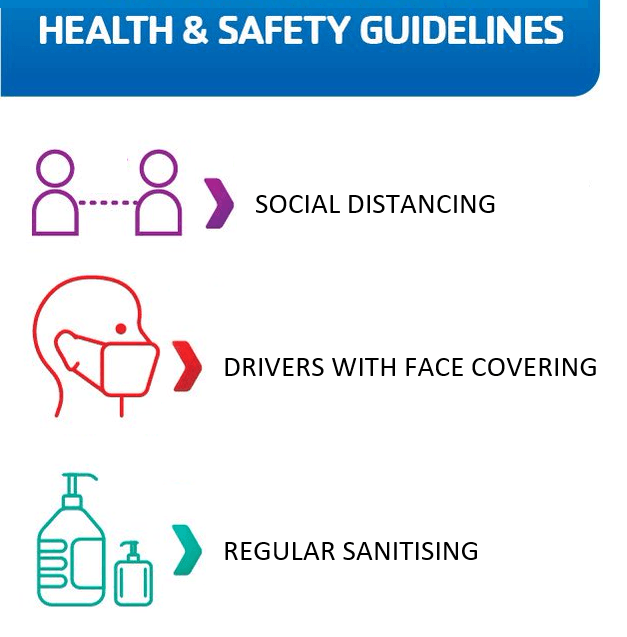 Safe Meet & Greet Airport Parking Guidelines.
– All staff will need to wear masks and gloves and will admininster hand sanitizer on their gloves before and after each customer and vehicle interaction
– All customer meeting areas will have a protective clear screen separating customers and Maple Parking staff
– All meeting areas will have hand sanitiser available for customers to use – recommended
– 2m distancing wherever possible between all staff and customers
Meet process
– Check in at a safe distance with NO CONTACT with our staff who have adequate PPE covering
– All Staff sanitizing their gloves regularly and before each customer/vehicle interaction
Parking process
– Every driver who moves/parks or comes into contact with the car will have effective PPE covering and will sanitise hands prior to and after driving the car
Greet Process
– Prior to driving the car the driver wearing PPE will sanitise their gloves thoroughly
– Customers will be offered/given antibacterial wipes to use on their steering wheel, gear shift and hand controls prior to driving home
Maple Parking will not use wipes on the car for 2 reasons –
1) potentially damaging leather or other surfaces in the car
2) customers will feel more reassured if they do it themselves and may want to regardless of whether Maple Parking did or not
Other operational processes (non customer facing)
– Similar measures will be in place throughout the company to reduce the potential for the spread of the virus amongst our staff.