Gold Membership Explained.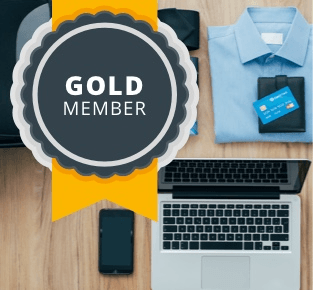 By choosing to park with Maple Parking, you are always rewarded.  Each time you book with us, we offer a discount saving; it's our way of saying Thank You.
Rewarding our travellers is important to us, and allows us to show them how much we care. Our gold members are extremely loyal as they have been around for some time, consistently choosing Maple Parking at least 5+ times.
You see, if you book with Maple Parking more than 5 times, we call you our special GOLD MEMBER, and reward your gold membership with the following;
20% off each and every time you book with us direct
First pick of seasonal availability
Monthly special offers
Preferential rates throughout the year
Our loyalty scheme is simple.
Once you have placed your bookings, by logging into your account the system will recognise your booking history and automatically set your membership status.  Whilst you are placing your bookings, the system will reduce the price automatically, no codes or stamps necessary. Be sure to login each time so that we can record each and every booking – the more you book, the more you save with us.
If you're already one of our loyal customers or perhaps you are just starting out, then click here to read more about our rewards and loyalty options, you can start earning your big discounts straight away, we will even discount your very first booking with 10% off.
We look forward to rewarding your custom, we appreciate you and looking forward to meeting you at the terminal!