Cruise Parking Options.
BOOKING YOUR CRUISE PARKING AT SOUTHAMPTON JUST GOT EASIER!
Check out our website for our sister company 'Cruise Parking Ltd.'
We have made it quicker and easier than ever to book your Cruise Parking for Southampton Port online.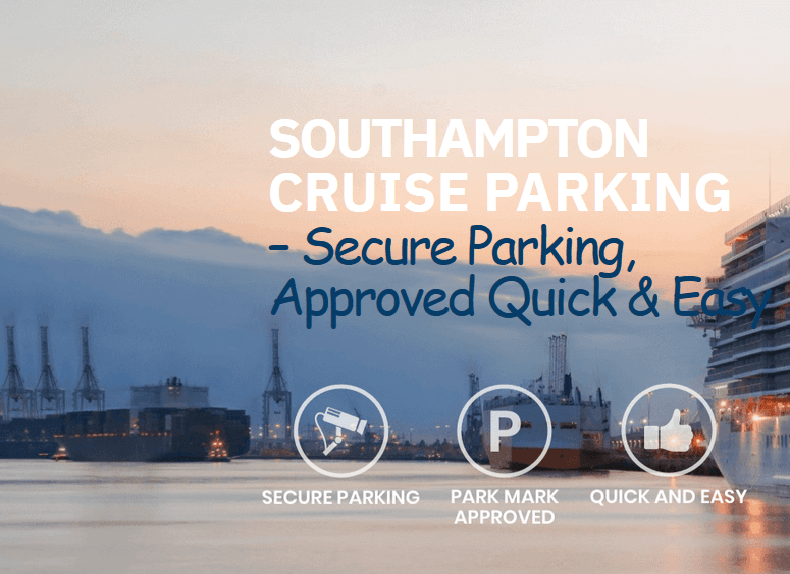 Our Secure Car Parks at Wren's Farm and Britannia Wharf are Park Mark accredited. Both have full time on-site management team and have 24 hour CCTV. Both have security lighting and a secure perimeter fence.
You will be given instructions on the day you drop off your car. In short you'll need to go to the pre-arranged meeting point relevant to your cruise ship/terminal to get our regular transfer back to your car. We will give you a number to call on the day too so you know when the bus will arrive at the meeting point.
Hand in your keys and our experienced staff will carefully park your car for you in our car park once you've unloaded.
Cars are parked in lanes for each return date so they usually only need to be moved once and once ready for you return.
Cruise Parking Ltd is the best value and most convenient way to park at Southampton. It allows you to drive straight to our car park and be welcomed by our friendly team. Our transfer buses will then quickly transfer you your cruise terminal to board your Cruise Ship while your car is safely parked up for you within our secure car park.
How do transfers work?
Luxury transfer buses run very frequently from both our Park and Ride car parks. They are fully licensed and air-conditioned and are included for up to 4 passengers. There is a £5 extra charge each way extra charge for any additional passengers which is payable locally. The buses will drop you at the cruise terminal you sail from and as near to the ship as possible.
Britannia Wharf Park and Ride – takes 5 minutes (traffic dependant)
To dock – 11am to 3:30pm on cruise days
From dock – 6am to 12 noon on cruise days
Wrens Farm Park and Ride – takes 20 minutes (traffic dependant)
To dock – 12 noon to 3pm on cruise days
From dock – 7am to 11 noon on cruise days
The whole process is quick, simple and straightforward – book quickly and simply online or contact our booking team, who are on hand to process your parking over the phone. Click here for your quick quote.